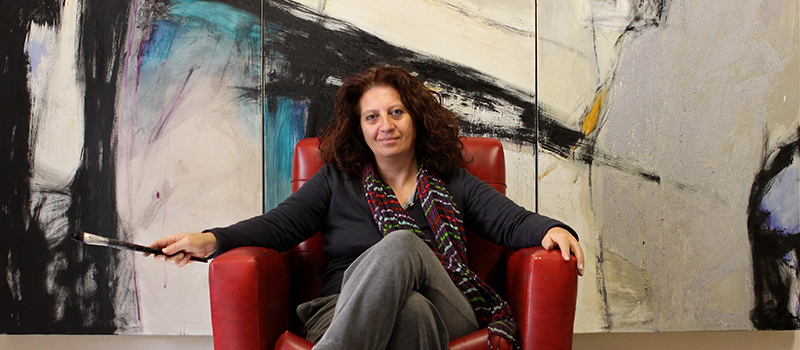 Biography
Patrizia Elisa Pareo was born in Buenos Aires, Argentina in 1959. She attended the fine art institutes "Beato Angelico" and "Prilidiano Pueyrredon" (Buenos Aires) and graduated in 1982.
At an early age she participates to personal and collective art exhibitions. As an artist she makes her own pastel and oil colours using old teckniques and is specialized in hand pressed prints.
Pareo's work of art are to be found in public and private collections in Argentina, Italy, Spain, France, Belgium, England, Holland, Cuba, Canada and United States.
Personal and collective exposures
1976 – Salon Nazional di Belle Arti – Buenos Aires
1980 – Ateneo Popular de la Boca – Buenos Aires
1981 – XII Salon municipal artes plasticas – Quilmes
1981 – II Salon Regional de artes plasticas – Quilmes
1982 – Associazione culturale Fiorentino Ameghino – Lujan
1982 – Museo Sivori – Buenos Aires
1983 – Galeria de arte Amicizia – Buenos Aires
1983 – Colegio Ward – stagione delle arti – Ramos Megia
1983 – Museo Storico e di Arte Gral San Martin – Moron
1985 – Galleria Mediterranea – Brindisi
1985 – Rassegna di pittura contemporanea – Ceglie Messapica
1986 – Municipall Hall – Ostuni
1987 – Consorzio Interprovinciale dei trulli – Martina Franca
1987 – Municipall hall – Cisternino
1988 – Villagio SOS – Ostuni
1990 – I sette passi d'arte contemporanea – Ceglie Messapica
1990 – Istituto Giannettino – Cisternino
1993 – Rassegna di pittura contemporanea – Trivero
1993 – II Biennale "Natale Malinverni" – Spessa – Pavia – Italia
1993 – Rassegna di pittura "Citta di Forli" – Forli – Italia
1994 – I Rassegna Nazionale di pittura – Mola di Bari – Italia
1994 – Palazzo Alberotanza – Mola di Bari – Italia
1994 – Galleria della Tartaruga – Roma – Italia
1995 – Neoterisma Biennale d'arte Contemporanea – Cisternino – Italia
1995 – Castello Angioino – Mola di Bari – Italia
1996 – Galleria comunale – Putignano – Italia
1997 – Torre civica – Cisternino – Italia
1997 – D'haudrecy Art Gallery – Knokke – Belgio
1997 – Neotérisma – Biennale d'Arte contemporanea – Cisternino – Italia
1998 – Capolinea cafè – Ceglie Messapica – Italia
1998 – D'haudrecy Art Gallery – Knokke – Belgio
1999 – Galleria Peter Brueghel – Holland
1999 – D'haudrecy Art Gallery – Knokke – Belgio
2000 – D'haudrecy Art Gallery – Knokke – Belgio
2001 – Torre civica – Cisternino – Italia
2001 – D'haudrecy Art Gallery – Knokke – Belgio
2002 – Galleria Comunale Spazio Giovani "San Nicola e i Bambini" – Bari – Italia
2002 – D'Haudrecy Art Gallery – Knokke – Belgio
2003 – Torre Civica "Venti e aromi del Sud" – Cisternino – Italia
2004 – Villa Correr Pisani – Montebelluna – Italia
2004 – Palazzo Tanzarella – Ostuni – Italia
2005 – Deko – Atelier Lindengrun – Vienna – Austria
2006 – Galleria d'arte "La Panchetta" – Bari – Italia
2006 – Deko – Atelier Lindengrun – Vienna – Austria
2007 – Land Art – Maglie – Italia
2007 – Deko – Atelier Lindengrun – Vienna – Austria
2008 – Galleria Il Chiodo di Sermoneta – Latina – Italia
2008 – Deko – Atelier Lindengrun – Vienna – Austria
2008 – Gallerie – Kunsthalle hosp – Insbruk – Austria
2009 – Deko – Atelier Lindengrun – Vienna – Austria
2009 – "Artist against war" – itinerante – Italia
2010 – Mostra personale Relais Masseria Villa Cenci – Cisternino – Italia
2012 – Mostra personale Galeria Lindengruen – Vienna – Austria
2013 – Mostra personale "Macrohabitat/Microhabitat" – Cisternino – Italia